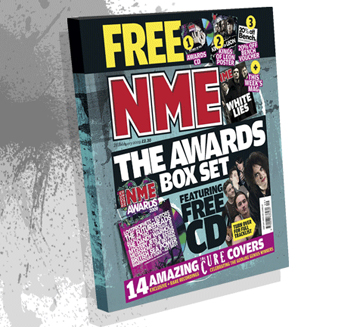 Editors, The Futureheads, Dinosaur Jr. o The Dandy Warhols son alguno de los encargados de coger canciones de The Cure y hacerlas suyas, a modo de homenaje. Lo más cojonudo de esto es que el álbum es un obsequio de la revista NME, que de forma gratuita adjuntará el disco con el número de su revista correspondiente al 25 de ferebro
El disco se titula Pictures Of You y estos son sus integrantes:
1. 'Robert Smith spoken word intro'
2. Mystery Jets and Esser – 'In Between Days'
3. Lostprophets – 'Boys Don't Cry'
4. Marmaduke Duke – 'Friday I'm In Love'
5. Dinosaur Jr – 'Just Like Heaven'
6. The Big Pink – 'Love Song'
7. Editors – 'Lullaby'
8. British Sea Power – 'A Forest'
9. The Dandy Warhols – 'Primary'
10. The Get Up Kids – 'Close To Me'
11. The Futureheads – 'The Lovecats'
12. Art Brut – 'Catch'
13. Metronomy – 'Fascination Street'
14. Alkaline Trio – 'Cut Here'
15. Get Cape. Wear Cape. Fly – 'In Between Days'
Si te pasa como a mí, que encontrar la NME es más dificil que escalar el K2, puedes comprarlo aquí, si estás en España, con los gastos de envío, te sale al módico precio de 8,45 euros. ¿No homenajearías a The Cure por ese precio?
Vía: Cuchara Sónica